Hughie
---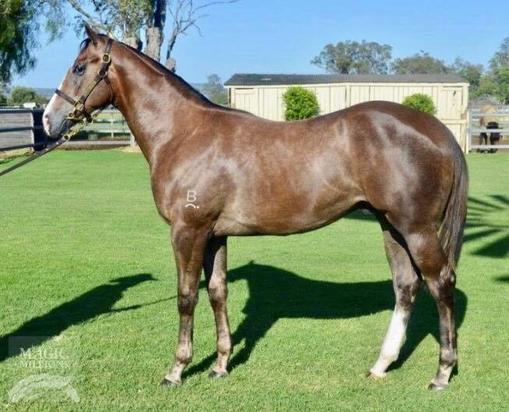 Sire: Rich Enuff
Dam: Saluting
Colour: Grey-Chestnut
Gender: Colt
Age: 3 year old
Foaled: Aug 11th, 2017
Country: Australia
Trainer's Name: MITCH NEWMAN
---
Pedigree
CHESTNUT/GREY COLT (AUS)

Foaled 11th August 2017

---

| | | | |
| --- | --- | --- | --- |
| Sire | Written Tycoon | Iglesia | Last Tycoon |
| RICH ENUFF (AUS) | | Party Miss | Kenmare |
| 2011 | Hotnuff | Spartacus | Snippets |
| | | Scalding Hot | Bureaucracy |
| Dam | Ferocity | Lion Hunter | Danehill |
| SALUTING (AUS) | | Chiara | Last Tycoon |
| 2007 | Love Not War | Cossack Warrior | Bletchingly |
| | | Belle Desire | Kenmare |

---

RICH ENUFF (AUS) (Chestnut 2011-Stud 2016). 3 wins at 1200m, 1400m, A$574,450, VRC Danehill S., Gr.2, MRC Caulfield Guineas Prelude, Gr.3, MVRC Mitchell McKenzie S., L, 2d MRC Caulfield Guineas, Gr.1, Heath S., Gr.3, 3d ATC Southern Cross S., Gr.3, MVRC Friends of Epworth 2YO H. Half-brother to SP Lightenuff (2d Sale Cup, L). Grandson of a half-sister to SW Cafeteria. Related to SW Elkalyn, SW Jam City, etc. His oldest progeny are yearlings.

1st dam

SALUTING, by Ferocity. Placed at 3 in Aust. This is her fifth foal. Her fourth foal is a 2YO. Dam of three foals to race, two winners-

All Troops (g. by All Bar One). 4 wins-1 at 2-at 1000m, 1100m, A$99,450, SCTC Yalumba H., BRC Gallopers Sports Club H., 2d BRC Relaxed Racing H., Ipswich TC Schweppes H., 3d Ipswich TC Sirromet Wines Bundamba 2YO P., BRC Optus Business Centre H., Alan Russell H., Ipswich TC QT H., Ray White H.

Duchess Dashalot (f. by Dash for Cash). Winner at 900m in 2018-19 in Aust.

Chairman Lo (g. by Sidereus). Placed at 3 in 2018-19, 2d HKJC Lung Hang H., Po Leung Kuk 140th Anniversary H.

2nd dam

LOVE NOT WAR, by Cossack Warrior. Unraced. Half-sister to HADAAF, Danish Magic, Savedbythebell. Dam of 10 foals, all raced, 5 winners, inc:-

Peace Talks. 14 wins-1 at 2-from 1200m to 1650m, A$150,810, 2d SCTC BOQ Chancellor Park & Mooloolaba H., 3d Qld Tatt's RC Travel Associates H., Carlton Mid Country Cup, Roma Cup.

Prey for Peace. Winner at 1000m, 3d QTC Fleur de Lys 2YO H., Gallipoli Research Foundation 2YO H. Dam of-

Foretoken. 7 wins to 1100m, A$99,875, Ipswich TC Celebrate Miner's Centenary H., PA Hotel H., 2d BRC XXXX Gold H., Ipswich TC City of Ipswich H., SCTC Coastline BMW H., 3d BRC Girls Day Out H., Ipswich TC Ray White H.

Heart Hunter. 2 wins at 900m, 1000m in Aust.

Donquinn Dotty. Winner at 1050m in Aust.

Love That Lion. Winner at 950m in Aust.

3rd dam

BELLE DESIRE, by Kenmare. 2 wins-1 at 2-at 1100m, WATC Cable Beach H., 2d WATC San Toy H., 3d WATC Azalia H., Budget 4 Wheel Drive H. Half-sister to LADY PURPOSE, Nawadder (dam of OASIS BLOOM, UNDERESTIMATION). Dam of 9 foals, 8 to race, 6 winners, inc:-

HADAAF (Danewin). 15 wins-3 at 2-from 900m to 1800m, A$750,233, STC Civic S., L, AJC Hayai Welter H., Tullamax Welter H., STC Theraces.com.au Welter H., Parramatta Leagues 2YO H., MVRC CFMEU FFTS. H., Illawarra TC Freeway H., AJC CVD Bottle Gift Shop H., TAB Power Pays H., Ash 2YO H., STC Theraces.com.au H., Hyland Race Colours H., Book Now for Golden Slipper Festival H., 2d STC Sky High S., L, 3d BRC Lord Mayor's Cup, Gr.3, STC Premier's Cup, L, 4th STC Apollo S., Gr.2.

Danish Magic (Danewin). 2 wins at 2, A$673,890, AJC Heroic 2YO Championship S., STC Wests Ashfield 2YO H., 2d AJC All Saints Boys Golden Jubilee P., City Tatt's RC Chairman's 2YO P., 3d AJC Keith Mackay H., L, Widden S., L, Sydney City Lexus H., STC Michael Hansell Signs H. Producer.

Savedbythebell (Secret Savings). Winner at 2, 2d BTC Golden S., L, Universal McCann H., QTC Programmed Maintenance Services H.

White Fire. Winner at 1000m, 2d SAJC Boulevard H. Dam of-

North Beach (Footstepsinthesand). 9 wins to 1050m, A$208,810, SAJC Evright.com H., Clean SA H., Adelaide Galvanising H., Oakbank RC Coca-Cola H., 2d SAJC Wolf Blass & Associates H., Nikki Dyer's 40th H., Pewsey Vale H., 3d Oakbank S., L, SAJC Allan Scott Park Morphettville H., Patinack Farm H., Betfair H., Centrebet's Best of Best H.

Ashero. 3 wins-1 at 2-at 1000m, 1050m to 2017-18, SAJC Hughes Chauffeured Limousines 2YO P., 2d SAJC MAC Stop Drug Driving H., 13cabs H.

4th dam

PURPOSE, by Vain. 8 wins-5 at 2-to 1200m, A$79,900, AJC Silver Shadow S., Gr.3, STC Reisling Slipper Trial S., Gr.3, Sweet Embrace S., L, AJC Mick Ferry H., Mary Gilmore H., Lachie Melville H., STC Segenhoe Stud H., Garden Island H., 4th AJC Liverpool City Cup, Gr.3, Sir Brian Crowley S., L, NSW Tatt's RC Roman Consul S., L. Three-quarter-sister to Summer Retreat, half-sister to HEMISPHERE, Glory Days (dam of COCKADE). Dam of 9 foals, 8 to race, 6 winners, inc:-

LADY PURPOSE (Sir Tristram). 2 wins-1 at 2-at 1200m, 2000m, A$124,100, VRC Waltzing Lily H., L, VATC Norman Robinson S., L, 2d VRC Maribyrnong P., Gr.2, 3d VATC Debutante S., Gr.3. Producer.

Nawadder (Marscay). 3 wins from 1400m to 1600m, A$100,945, VATC Cadbury's Time Out H., MVRC Members' H., 2d VRC AV Kewney S., Gr.2. Dam of-

OASIS BLOOM (Al Maher). 2 wins at 1600m, 1700m, A$326,900, MVRC WH Stocks S., Gr.2, VRC Crown Promenade Trophy, 2d MVRC WH Stocks S., Gr.2, MRC Herbert Power S., Gr.2, Race-Tech Classic, L, 4th VRC Myer Classic, Gr.1.

UNDERESTIMATION (Al Samer). 6 wins-2 at 2-to 1400m, A$356,355, VRC Anzac Day S., L, 2d SAJC Breeders' S., Gr.3.